If you have a small business, you would know of the pains of book-keeping. The pains of filing away all those receipts, recording double entry transactions. You may have your records kept on paper or in a MS Excel Spreadsheet. However, a more efficient way has been made available to Small Business owners. There are now hundreds of online accounting applications out there that can help you keep your books in order.
If you scour the Internet, you will find many options available to you. Some of the applications have free versions that contain the full functionality needed to run your business. Each application would have their own advantages and disadvantages, so it would be up to you the consumer, to test them out before you wholly adopt it for your business.
One feature that we have been gauging each package by however, is the ability to operate 'in the cloud' ie. No desktop software to be installed on your computer. You must be able to go to any computer, even when on vacation in a Caribbean island and still be able to view your accounts.
So here are a couple of packages you can look into for your business:
Wave is the free, easy accounting program made for small business owners and freelancers. Get back in control of your finances, while saving time and money. Send professional invoices, track expenses, and eliminate accounting headaches.
SAVE TIME
• Connect with your online bank and credit card accounts (optional), and eliminate hours of tedious manual data entry: Wave imports all your transactions while you sleep, so you're always up to date.
• The more you use Wave, the smarter it gets, automatically filing your transactions where you want them.
EASY TO USE
• Wave is built for non-accountants, but also includes the tools that will make your accountant smile.
• Powerful yet easy: real double-entry accounting; reports; journal entries and more for the expert user.
100% FREE
• Not just a trial version. Use all of Wave, as much and as often as you want, for free.
MORE FEATURES
• Invoices: create and send unlimited professional invoices.
• At-a-glance dashboards.
• Unlimited collaborators: invite your accountant, bookkeeper, business partner or advisor to work with you in Wave.
• Manage business and personal finances together in the same program, seamlessly. Wave even handles business expenses paid from a personal account, and vice versa.
• No usage limits.
• Free support.
• Sales tax calculations and reports
• Free alternative to QuickBooks and expensive software.
… and much more …
We were impressed us with this package the most because of its ability to do foreign currency transactions and the ability to import transactions from PayPal.
At the time of this writing however, there was no feature in the application to apply discounts to invoices or create quotes. The company seems however, to be working on those developments.
Update January 2013: An update has been made that enables us to create quotes..Yippey!!! Now just the discount field and we have a clear winner!!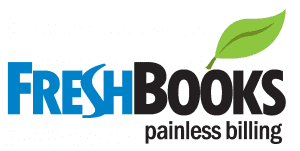 FreshBooks is easy cloud accounting for small businesses and freelancers, specifically designed to save you time billing clients. Create professional invoices, capture expenses with ease and effortlessly track time on projects; it's all here, plus you'll be ready for tax time.
FreshBooks is simple to use and in the cloud, which means your data is always safe and accessible no matter what device you're using. And our friendly support team is always just a phone call or email away. Switch to FreshBooks and join 5 million happy users!
Featured by New York Times, CNET, Accounting Today, TechCrunch, Mashable
EASY TO USE
– Straightforward and intuitive design built for business owners
– Friendly help from people in your corner is available by phone or email whenever you have questions
IN THE CLOUD
– Your FreshBooks account is accessible everywhere, to let you work where you want, when you want
– Collaborating with others is easy with cloud-friendly features like team timesheets
– Your data is always backed up and secure across multiple data centers and behind a firewall with 256-bit encryption
ACCOUNTING THAT SAVES YOU TIME
– Track your money coming in and going out with expense reports and account statements, plus get 20 streamlined reports that keep everything organized for tax time
– Accept online payments via credit card, echecks, PayPal and more
– Integrate FreshBooks with 70+ of our cloud partners (like Basecamp, Shopify, Zendesk , MailChimp and more)
If you simply need quick billing, this is the application for you.
Outright is much less work to learn and use than full-blown accounting solutions. Our 100,000 customers use us to make quarter-end, year-end, and sales tax events simple.
IMAGINE HOW EASY IT COULD BE…
Let Outright organize your online accounts, with support for over 4,000 banks and credit cards, plus eBay, PayPal, Freshbooks, Harvest and Shoeboxed. Paper receipts from cash purchases? Enter them manually – it's that simple.
ARE YOU GUESSING, WORRYING, OR TEARING YOUR HAIR OUT FIGURING OUT WHAT'S GOING ON IN YOUR BUSINESS?
With Outright, there's no more deciphering confusing reports or weeding through data. In seconds, you can see your sales and expenses with easy to read charts and graphs.
YOU'RE ALWAYS ON TOP OF TAXES
Because Outright automatically categorizes transactions in a way the IRS expects, your tax records are always accurate and up to date. Plus, you can see estimates of what you owe at any time, and get notified of upcoming tax deadlines.
MAXIMUM SECURITY 24/7
Outright uses 256-bit SSL security, the same as most major US bank. Your data is securely stored with us.
Exclusive for Google Apps:
* See your customer and vendor payment history directly in Gmail
* All outstanding invoice appear on your Google Calendar
* Tax deadlines and amounts due appear on Google Calendar
At the time of this writing this application did not have the ability to handle foreign currency transactions.
How many different applications do you use every day? Do you have to copy information back and forth all the time?
By keeping your contacts, invoices, expenses, tasks, accounting, and inventory in one place, myERP eliminates data duplication and keeps your information accurate and up-to-date. Our powerful search puts every tiny bit of information at your fingertips.
Here is a quick overview of all of myERP's features:
• Invoicing: Flexible options for billing your customers including quotes, invoices and sales orders.
• CRM and Leads: Keep a record of interaction with your leads to close more sales.
• Time and Projects: Enter tasks and time sheets for your projects and use that information to bill your customers.
• Expenses: Import expenses from bank or enter your expense receipts directly with our quick-entry forms.
• Purchases: Track multi-document supply chain process including purchase orders and bills.
• Inventory: Purchases and sales automatically update inventory levels. Process receiving notes and generate delivery notes.
• Accounting: No need for a separate tool for managing your finances. Automatically reconcile bank accounts and generate real-time reports (P&L, Balance Sheet..)
Use my ERP for free, unlimited features for one user. For the first 30 days, your myERP account comes with 1-on-1 support.
We had really like this application, as it was a total ERP application. Leads, quotes, foreign currency, reports. The interface though is a little unintuitive for the layman; also, after the trial 30 day version, the free version that is offered would place the myerp logo on all your invoices, quotes etc; NOT Good at ALL!!!!!!.
Real accounting made simple.
Kashoo is real accounting. There are plenty of apps out there that let you track invoices or expenses, but Kashoo does more. Kashoo takes care of the nuts and bolts of your accounting so you don't have to. This makes your accountant happy and saves you money.
Work anywhere. Collaborate in real-time.
Kashoo is cloud-based so you can securely access your financial records on the road, at the client site, or on the beach. With Kashoo, collaborating with your accountant or your business partners in real-time is a breeze.
Get control of your business finances.
Interactive dashboards and real-time financial reports help business owners keep on top of the numbers impacting their business. Make better decisions. Optimize business performance.
Kashoo + Google = Convenience.
Google Apps users enjoy the convenience of doing their accounting and bookkeeping integrated with email, documents, and calendar. Easy access to Kashoo.com through the Google universal navigation bar is just the beginning.
Save your money.
No nickel-and-diming. No set-up fee. No upgrade fee. No contract. FREE for the entry-level edition. Not a trial. No strings attached.
With Kashoo, if you need to do foreign currency transactions, you would have to go for the paid version.
So which accounting package do you prefer or use for your Small Business?